Education
The Watsonville Wetlands Watch provides many learning opportunities for students, teachers, and community members from our home at the Fitz Wetlands Educational Resource Center (Fitz WERC), situated on the campus of Pajaro Valley High School in Watsonville, CA, adjacent to 100 acres of fresh-water wetland.
The location of our center provides a unique opportunity for groups and individuals to participate in hands-on laboratory and outdoor activities that foster an understanding of our local wetlands and a respect for nature as a whole.
Through various K–12 programs, Watsonville Wetlands Watch staff, dedicated docents, and interns implement our exclusive California-standards-based curriculum with students of the Pajaro Valley. Students are given the space to cultivate an appreciation of local fauna and flora while developing real-world and academic skills. During the 2009 – 2010 school year, we provided wetlands educational experiences to 950 Pajaro Valley elementary, middle, and high school students. During the 2010 – 2011 school year, we served well over a thousand such students.
The Watsonville Wetlands Watch also collaborates with many local agencies to provide professional development and training opportunities for teachers as well as speaker events for the whole community. Check our calendar.
Watsonville Wetlands Watch has just finished a Green Careers Summer Institute for Pájaro Valley teens ages 15–18. With the support of community partners, 12 teens enjoyed paid month-long internships focused on cultivating practical green jobs skills in the Pájaro Valley and learning to appreciate our unique natural environment..
"The teens we work with out of the Fitz Wetlands Educational Resource Center care about the environment and are looking for local jobs but don't know where to start," said Noëlle Antolin, Director of Education Programs for Watsonville Wetlands Watch. "We believe that giving them intensive hands-on training in partnership with local businesses and groups will increase their skills and confidence while presenting them with priceless networking opportunities that can lead to successful green careers in our community."
Over the course of four weeks during June and July, the Green Careers Institute immersed teens in the day-to-day duties of various local green jobs found throughout the county. Interns developed skills in organic agriculture, water quality monitoring, digital mapping, and natural resource management. They went on an overnight camping trip, received first aid certification, and will participate in on-going leadership and job readiness workshops through the fall at the Fitz Wetlands Educational Resource Center.
The support that this program has received from partners is a testament to its value to our community and local economy. The Santa Cruz County Office of Education Work for Youth program is paying teens to work at partnering local businesses and agencies. The City of Watsonville Public Works Department and the Pájaro Valley Water Management Agency provided hands-on field and lab training in water quality monitoring. The County of Santa Cruz GIS Department, Cal State Monterey Bay, and Digital Nest collaborated with Wetlands Watch to provide a career panel and a week-long training on digital
Andrea Gomez
holding a chicken
at Lonely Mountain Farm mapping. Teens learned the ins and outs of organic agriculture at Lonely Mountain Farm in Corralitos. Bike Santa Cruz County provided an overview of sustainable transportation practices and a group bike ride through the Watsonville Wetlands trails. Wetlands Watch, the California Conservation Corps, and UCSC Younger Lagoon Natural Reserve staff provided training on habitat restoration through invasive plant removal, native plant propagation, and proper tool use and maintenance.
The Bureau of Labor Statistics defines "green" jobs as those that produce goods or provide services that benefit the environment or conserve natural resources, or jobs that use more environmentally friendly processes or fewer natural resources. In one of their recent reports the Bureau states that green jobs in the private sector increased by 7% between 2010 and 2011 in comparison with an all-industry growth of only 1%. A quick survey of local businesses and agencies shows that our community is rich in prosperous green careers but currently has a shortage of skilled applicants. The qualifications for green jobs vary from graduate and undergraduate degrees to high school diplomas and training certificates.
We Applaud Our Teachers
In honor of National Teachers Appreciation Week, which is May 4 – 8, we would like to acknowledge all the teachers, active and retired, who do such important work on behalf of the wetlands as docents, staff, and partners. One excellent example is docent Dan Merritt, retired Professor of Zoology and Environmental Science at the University of LaVerne, who is keeping very busy helping with Watsonville Wetlands Watch school field trips and the Monterey Bay Aquarium's W.A.T.C.H. Coastal Ecology program at Pajaro Valley High School. When speaking about the students he works with, Dan says, "I want them to know that the natural environment is more than 'just facts' about something 'out there.' It is a living, breathing, flowing, unfolding world—just as each child is."
Following are comments of Watsonville Wetlands Watch docent Dan Merritt:
Among my favorite experiences in teaching Biology and Environmental Science, professionally, were the times the students and I spent together on field trips—reviewing what they had learned in class and discovering new aspects and connections in Nature.
By participating as a docent on field trips and in the lab with the Watsonville Wetlands Watch (WWW) and the Aquarium's W.A.T.C.H. Programs, I get to reap the benefits of revisiting the familiar and uncovering surprises with young people (without the exams and other paperwork). And, I get to work with the wonderful education, administration, and restoration staff of theWetlands Watch!
In my work with the Watsonville Wetlands Watch, I enjoy helping young children to notice, to become aware of, the sights and sounds and textures of the natural world coming to us through the air, across the land and from within the water. I like to imagine we are opening up new worlds of wonder to them, while at the same time, rekindling our own sense of wonder we knew as children.
I want them to know that the natural environment is more than "just facts" about something "out there." It is a living, breathing, flowing, unfolding world—just as each child is. These encounters outside homes and classrooms also represent perfect opportunities to encourage the children to consider ways that Nature is susceptible to human actions—not because we are cruel or uncaring—but often because we don't know what impacts we are having.
This poem expresses it all very well for me. I wrote it when I was volunteering in a similar program in Oregon a few years ago.
Today,
Standing in the restless shallows
Of this stream,
I realized, all my years
Of studying and teaching biology
Have been preparing me
To dip up and place
This small black water beetle
In the eager, upturned palm
Of a young blind boy
Seated in his wheelchair.
Working with the high school-age kids in the W.A.T.C.H. Program is an opportunity to give back some of the gifts of knowledge shared, by other teachers and mentors, with me as a young scientist. It has been an honor and a challenge to serve as a Science Mentor to some of these bright, motivated young people, as they learn to apply the formal aspects of scientific investigations to actual study sites (Watsonville Slough system, Elkhorn Slough and Younger Lagoon at Seymour Labs). I have greatly enjoyed working with the excellent high school teachers in the program and with the creative and resourceful W.A.T.C.H. Staff. 05/2015
Raising Salmonids at the Wetlands Educational Resource Center
Springtime is often celebrated with bunnies and candy eggs. Here at the Fitz Wetlands Educational Resource Center we are going to celebrate with a different type of egg. On March 23rd the Wetlands Center will be picking up its allotment of Rainbow Trout eggs, thanks to a partnership with NOAA. Wetlands Watch Education Specialist Darren Gertler, a qualified Steelhead-in-the-Classroom Instructor, will be helping coordinate the raising and releasing of these trout.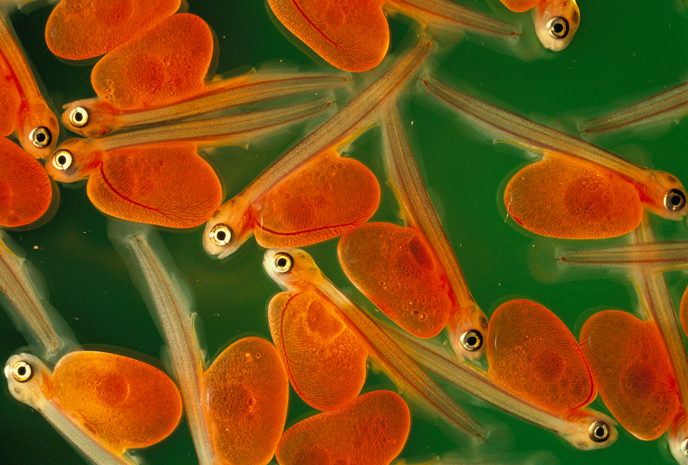 The eggs will be incubated in the Wetlands Educational Resource Center for approximately 30 days. Specialized aquarium equipment will keep the water temperature in the low 50's and produce a baby fry in about a month. Feel free to come in and view their growth and development any weekday from noon to 3 p.m. (map/directions). With a little luck we will be releasing our fry in Pinto Lake at our "release party", with details to follow in an upcoming E-Letter.
In preparation for the eggs' arrival, the Wetland Stewards recently took a private tour of the fish ladder in Corralitos Creek to learn more about our rarely seen steelhead population. Corralitos Creek, despite looking like a tiny dribble for many months of the year, is still home to breeding Steelhead. Steelhead and Rainbow Trout are the same species of fish but they have different lifestyles. Steelhead are anadromous fish, meaning they are born in fresh water but spend most of their lives in the sea and return to fresh water to spawn, while Rainbow Trout spend most of their lives in freshwater.
The Steelhead in the Classroom Curriculum and Programs were created by the State of California to promote watershed stewardship amongst grades K–12. Due to some permitting problems concerning the acquisition and release of Steelhead, this year classrooms statewide will be rearing and releasing Rainbow Trout. To maintain a strong genetic pool in our local coastal streams and creeks, we will not be releasing our fry into the creeks and streams of the watershed. Instead, our trout eggs will be sterilized before we accept delivery and they will live out their lives in Pinto Lake. Despite these changes to the program, we will still receive an educational benefit and be privy to a great teaching tool for the time they are in our care. 04/2015
Green Careers Class Harvests Rewards
With the end of the school year, the Watch's education staff members Adrienne Frisbee and Noëlle Antolin completed Watsonville Wetlands Watch's first year teaching a Regional Occupation Program (ROP) Green Careers high school course at the Wetlands Educational Resource Center. The class wrapped up with a final field trip to MEarth, an environmental education center in Carmel. This center features native and organic gardens, a constructed wetland, rain water harvest, and a LEED certified commercial kitchen and classroom with solar power and a green roof. This environmental education center brought together many of the ideas, concepts, and skills the 28 high school students have studied over the course of the year. The students took a tour of the property, harvested vegetables and flowers, and made pizzas in the outdoor pizza oven and a salad with their harvest.
This course began as a result of a partnership between WWW, the Santa Cruz Regional Occupation Program, and Pajaro Valley High School. By teaching the skills and knowledge needed for the Green Careers industry, this class seeks to increase environmental awareness and to prepare students for careers in the environment. Some of the key components of this program are guest speakers and field trips. With over 20 guest presenters and 10 field trips this year, students were able to gain direct exposure to bring a variety of green jobs to life. In addition, WWW placed 11 students in internships related to water quality, agriculture, food justice, outreach, and restoration. A big thank you to our following partners and, as usual, our incredible volunteers for helping make this new program a success! 07/2014
Tamara Doan, CA Coastal Commission
City of Watsonville
Elkhorn Slough Nursery
Food What!
Gary Kittleson
Hortau
Lakeside Organics
Live Earth Farm
MEarth
Monkey Flower Farms
Monterey Bay Aquarium
NASA
Pajaro Valley High School
Reiter Berry
Resource Conservation District of Santa Cruz
Santa Cruz Department of Education, Regional Occupation Program
Sierra Azul Nursery
Stella Villegas, University of CA. Santa Cruz
US Fish and Wildlife Service
Watsonville TEC
Wild Farm Alliance
Watsonville Wetlands Watch is proud to have many active and retired educators among its dedicated docents, board members and volunteers. National Teacher Appreciation Week, May 4–10, established by Congress in 1953 at the urging of Eleanor Roosevelt, is an opportunity to acknowledge our teachers and the vital role of education in the Wetlands Watch mission.
We are lucky to have on staff our wonderful Education Director Noelle Antolin, Environmental Education Specialists Adrienne Frisbee and Carmen Tan, and retired teachers who continue in active education roles as WWW docents including Dan Merritt, Becky Stewart, Heidi Perlmutter, Alice Weigel, Ron Bobb, Kris Beall, Judy Husted, Mary Ann Hunter, Joann Leonard, and others. We are also grateful for the many other teachers and former teachers who support WWW by volunteering their time or providing financial support.
"The Wetlands Watch is a very good fit for me because I love the environment and I have always loved teaching," says docent Becky Stewart. Although she retired from full-time teaching in 2011, Becky remains an active educator by working with Noelle, Adrienne, and Carmen teaching Pajaro Valley students both in and out of the classroom.
Becky says she enjoys the field trips, whether to the water treatment plant or on an inspirational excursion to the redwoods. "You can tell that the kids don't get these experiences very often, and it's wonderful to see the looks on their faces when they discover something for the first time." Becky's not afraid to get her hands dirty –or her feet wet- in the interest of education. "I actually fell into the water while helping students do water testing last summer," she says with a laugh. "The kids got a big kick out of that."
Such dedicated volunteers and staff are the backbone of WWW's successful –and expanding- education programs. Becky Stewart sums up; "I think so highly of Noelle, Adrienne and Carmen and what they are doing to bring environmental education to the kids. I'm sure they could be teaching anywhere, but they are choosing to do what they love here, for students of the Pajaro Valley, and that's a wonderful thing."
04/2014
This spring, our Green Careers Regional Occupational Program (ROP) class at Pajaro Valley High visited nearby Watsonville Slough Farm, owned by the Land Trust of Santa Cruz County. The tour was organized by the Watsonville Wetlands Watch's Restoration Director Jonathan Pilch and included guest speakers from local Pajaro Valley farmers, a tour of restoration efforts on the farm, and a native planting of a wetland buffer. Juan Gonzalez from Lakeside Organics Gardens and Frank Estrada from Reiter Berry Farms joined our students to talk about farming practices, organic farming, irrigation, and new innovations such as web-based irrigation management and Ag Robots (robotic harvesters). They also shared their personal stories and career paths. Students asked a lot of questions and learned about the many types of green careers and internships available locally in agriculture. These two speakers really communicated an enthusiasm and love for their jobs to the students.
In addition to learning about agriculture, the class was able to see restoration features on the farm that they have studied in class, such as a native grassland buffers, water detention basins, and hedgerows. They also got a chance to get their hands dirty and plant native plants below a field along Hanson Slough. These native plants will serve as a wetland buffer and help to filter water that runs off the fields, which can improve water quality in Hanson Slough. We're so fortunate to be able to provide these types of hands-on experiences with farmers and restoration practitioners who work in the Pajaro Valley. It's one of the many ways we're able to provide our students with experiences that enrich their thinking about their future careers and education, the food they eat, and the place where they live, both today and in the future. 04/2014
The new year has brought many new opportunities for our ROP (Regional Occupational Program) Green Careers students. Since the focus of the class is on job preparedness and skill building, we are having a great time partnering with local groups to provide amazing internships for our students. Three of our students, Celeste Espino, Rocio Sanchez and Jasmine Gonzalez, have been paired with Tamara Doan, Water Quality Analyst with California Coastal Commission, to help coordinate a community-wide education campaign to prevent storm water runoff in Watsonville. They assisted in the recent Monterey Bay Conference for Water Quality that took place at the Watsonville Civic Plaza on February 5th. With Tamara's guidance they prepared outreach materials for the public, recruited student groups to present posters, and helped set up for the day's events. After the event Jasmine said she was moved to see how the various groups present have such a positive impact and contribute to the community that she lives in.
The student efforts will continue through the end of the school year with the creation of bilingual outreach materials and tabling activities at upcoming events like Earth Day. Valeria Montion and Celeste Espino have signed on to assist The Wild Farm Alliance to install a hedgerow at Monkey Flower Farms. Their mentors Jo Ann Baumgartner, Sam Earnshaw, and Meaghan Donovan, have been teaching them the importance of creating hedgerows on farms as habitat for pollinators and wildlife, and instructing them on techniques including site preparation, planting, mulching, site maintenance and plant identification. In March several other students will join Food What?! , a youth empowerment and food justice program out of UCSC, and finally, more than ten of our students will assist in caring for young lambs at Monkey Flower Farms. We are so fortunate to have such community-minded partners who are eager to help prepare the next generation of environmental professionals! 03/2014
Wetlands Stewards Middle School Watershed Program
by Board of Directors Member Lou Rose
I accompanied twenty-four children — 6th, 7th, and 8th graders from Lakeview Middle School — and Watsonville Wetlands Watch Environmental Education Specialist Adrienne Frisbee on an after-school trip to Elkhorn Slough, as a part of our Wetland Stewards Middle School Program, which focuses on watershed exploration. Immediately after disembarking from the school bus at South Harbor, Moss Landing, we were cheerfully greeted by Capt. Yohn and Naturalist Laura. Everyone donned life jackets and boarded a flat-bottomed boat, the Elkhorn Slough Safari, and we were off on an exciting adventure through the harbor, under the Hwy. 1 bridge, and well up into the Elkhorn Slough.
It was a glorious day — crisply cool in the warm sun. The children were excited, yet well behaved. They participated eagerly in observing and counting the wildlife — with coaching by the captain and naturalist. Before leaving the harbor, we had spotted literally tons of sea lions and sea otters — up close and personal. In total we spotted 35 different bird species, 70 sea otters, 157 sea lions, and 300 harbor seals! It was an amazing day and along the way we learned about wildlife feeding, mating, migrating -- and about the impact that humans have on these creatures, and what we can do about it.
This was the seventh of eight after-school outings for the Lakeview kids this fall. Since the October orientation and team building sessions in the Lakeview classroom, these kids have visited Grizzly Flats (the headwaters of Corralitos Creek), West Struve Slough at the Dept. of Fish and Wildlife (DFW) property, the Watsonville Slough at Ramsay Park (where they studied aquatic invertebrates), the confluence of the Watsonville Slough and the Pajaro River, Sunset Beach near Pajaro Dunes, and a restoration planting on the DFW property. Following today's excursion, next week there will be an art field trip followed by a graduation and course evaluation by the children.
Three quarters of the Lakeview kids today had previously participated in our Wetlands Stewards Elementary School Program when they were in either the 4th or 5th grade. That, too, was an eight-week course. Altogether these children will have had 16 classes in Watsonville Wetland Watch's after-school environmental education programs. We'll probably see some of them again at Pajaro Valley High. That's the idea: repeated contact hours have a greater impact on the children's appreciation of nature and their desire to protect it from human abuse.
The program this year is not only for Lakeview but three other middle schools. Cesar Chavez Middle School kids completed their course earlier this fall. Next spring, kids from Rolling Hills and Pajaro Middle will also participate. The objectives of the program are to have the children understand watersheds, human impacts on watersheds, what humans can do to help — and to have a good time.

I asked a few kids, "Have you ever been on a boat before?" Several said, "Only one time before when we went on the O'Neil Sea Odyssey excursion." And when I asked, at the end of the outing, "Did you have a good time?" you should have heard them squeal and seen them glow with delight!
The cost of the excursion was shared by WWW grantors and the Pajaro Valley Unified School District with outside support from the Foundation for Youth Investment, NOAA B-WET, Community Foundation of Monterey County, The Strong Foundation, Nicholson Family Foundation, and Pebble Beach Community Foundation. The total cost of the trip was $2000.  What a great return the children got from these generous supporters of the program!
As a member of the Board of Directors of Watsonville Wetlands Watch, who was privileged to observe the children on this outing, I must say that my volunteer work for this organization has been more than validated. What I saw today — the excitement and genuine engagement of the kids with nature — reinforces my belief that all of our programs that integrate youth education and the environment will someday create higher quality living in the Pajaro Valley and the Monterey Bay region. Personally speaking, I'm inspired and rededicated to implement this vision. 01/2014
Watsonville Wetlands Watch Teaches Year-long "Green Careers"
ROP Class at Pajaro Valley High School
This year Education staff Noëlle Antolin and Adrienne Frisbee are teaching a new class called Green Careers at Pajaro Valley High School. The Green Careers field is a growing industry with many diverse applications in science, math, communications, construction, agriculture, and technology.
As part of a partnership with the Santa Cruz County Regional Occupation Program (ROP), this class features a hands-on exploration of green career opportunities alongside experts throughout the region, including Watsonville Wetlands Watch staff. Twenty-three students are currently enrolled in the class in its first year at PV High. The topics covered include natural resources, environmental horticulture, agriculture, energy, water conservation, waste reduction, development, policy, and recreation. During the introductory unit, students attended a career panel at the Fitz Wetlands Educational Resource Center during which five professionals with a green industry career shared their life experience. They discussed the difference between a job and a career and urged students to find their passion.
Field trips are lined up for each unit where students have the opportunity to explore a new topic in green careers in their community and network with professionals in the field. The first field trip took place on Friday, September 27th. Students were transported to Ellicott Slough National Wildlife Refuge, which is part of the Watsonville Slough system and a protected habitat area for the endangered Santa Cruz long-toed salamander owned and managed by the U.S. Fish and Wildlife Service. Students received a tour of the reserve, helped to monitor for salamanders, and got to hear about exciting career opportunities from four wildlife biologists and environmental educators.
Later this year, students will also explore an internship with a local business, agency, or organization. In line with the ROP mission, students will develop skills in critical thinking, using technology, professional development, communication, and safety best practices. 11/2013
Wetlands Diorama and Education Guide
A group of highly resourceful and dedicated volunteers are creating a professional-level wetlands diorama for the Fitz Wetlands Educational Resource Center. What started out as a simple volunteer project to display wetland animal specimens in a glass display case has since evolved into the creation of an elaborate multi-level representation of life in the wetlands and education tool. This project, spearheaded by docent Cathy Gamble, along with Bill Best and Carol Bennett and a host of other volunteers, is titled "Web of Life in the Wetlands."
The lowest part of this multilevel display has sliding doors which reveal the creatures that live under the water and underground like the crayfish and shrew mole. On the higher "ground" level we see the many species that live on the ground or on top of the water against a background mural. Included in the highest level is a magnificent red-tailed hawk perched on his killing post, with his eyes on the rodents below.
Much of the detail in the display is a result of the group's extensive research. For example, the entrance to the tarantula's burrow is lined with the silky webbing which helps tarantulas climb up and down. The water under the Water Striders' legs is dimpled to reflect the surface tension that allows them to dance along the top of the water.
The volunteers plan to unveil their project later in the year. Along with the diorama, they are creating an educational guide that will enable teachers and docents to interpret life in the wetlands, using the diorama as a model. This display will provide students and visitors with a range of experiences, from simple enjoyment of the wonder of the wetlands to a deep understanding of the wetlands' web of life. 02/2011
Pajaro Valley High School Freshmen Study Invertebrates as Bioindicators
Healthy freshwater wetlands are home to hundreds of species interconnected through a web of life. Aquatic invertebrates are the foundation of the delicate wetlands food web and are bioindicators of wetlands health; they can help us determine the health of an environment because they are sensitive to changes. Other examples of bioindicators are frogs and steelhead trout. The presence of sensitive organisms is a sign that the environment is fulfilling at least some of the basic needs for the survival of those organisms and that it may actually be healthy. During the month of October, 2010, every PV High freshman took to the sloughs to monitor aquatic invertebrates as part of their ecology unit for Integrated Science.
With the help of docents, PVHS students worked in small groups to identify each organism they collected. The creatures were placed into sensitivity groups, and at the end of the study students found that on average the water quality at the uppermost part of the West Branch of Struve Slough was "fair" during the month of October. Students and volunteers will continue this study and expand it over the long-term as part of Project Tierra.
Project Tierra Involves PVHS Students in Field Study Integrated to Curricula
Three Pajaro Valley High School classes, during Algebra I and Ecology units, learned to monitor the success of restoration planting and grazing management during April and May, 2010. As part of Project Tierra, the students counted plant populations on parts of the Dept. of Fish and Game property, then returned to the classroom to enter their data and analyze it. This is a win-win experience; students develop scientific skills and the community benefits from information that helps us manage restoration projects most effectively. Click here for more about Project Tierra.
Program links